I never owned
Polaroid
camera. We had other things at my parents' house: a cute and dear brownie camera, a nice 35mm Canon, even sundry cheap point and clicks for my siblings and me. But there was something about Polaroids that didn't suit my mother's photographic inclinations. She's never said as much, but I think there was something she considered
crass
about Polaroids - their indulgence of instant gratification (although, I think what actually happens here is more subtle and complicated...), their room for captions, their smell, even.

But I liked them.
I liked the smell (my mother and I often differed in our olfactory judgments - she wondered how on earth I could possibly like the smell of gasoline, for instance). I liked the tension between quick gratification and delayed pleasure that those moments spent waiting for the image to emerge engendered. I liked the look-shake-look pacing of it all.
And I liked the kinder, more impressionistic image that resulted. This could have had something to do with my poor eyesight. I still remember how alarming it was when I first got glasses (at 7) and the world became sharp. All of it turned promptly from soft and indistinct to sharp - the things I saw and the headaches I had. Trees suddenly had individual leaves; signs had words on them; sounds in the woods had animals dashing. Still, this vividness sometimes seemed to me to be utterly overwhelming. In the woods, I would sometimes take my glasses off and rely on the suggested messages of my poor eyesight, rather than the firm dictations of the world through my glasses. When I could see the disappointed expression of a parent, I would take them off and a furrowed brow would blur. Maybe there was something appealing about the vagueness of Polaroids.
by director Andrei Tarkovsky
There's a lot about Polaroids that make them poignant. In their popular form, they're one-of-a-kind. They're not little gems in the same way
Daguerreotypes
are, but they are singular. Even when you can peel back the jacket of a Polaroid and press and press and press, it fades a little each time, or you move it as you press and it smudges. Or the paper wrinkles. At any rate, there are endless opportunities for
punctum

.
They change in your hands. They're used as tests for proper photos (I can't help but feel an affinity with anything so used for practice).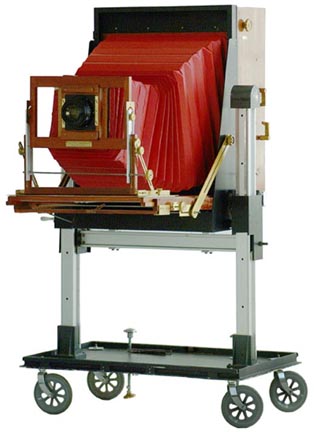 20x24